Trial Workbook Tutorials
Links to Statutes
One of the simple ways we can make your life easier is having often-used statutes available with a minimum of clicks.
There are direct links to many statues in our menus – the example below shows how to quickly access the Bail Act from the mobile site. Give it a try – it's faster than trying to navigate the www.legislation.govt.nz site.
If there a statute you would like to see here please email us at feedback@trialworkbook.co.nz

Add Trial WorkBook to your home screen on IOS
(iPhone and iPad) The following instructions will enable you to create a shortcut icon on your iPhones home screen – essentially it makes Trial Workbook easier to access and it looks great. Firstly, open Safari and navigate to https://www.trialworkbook.co.nz – it should look something like this: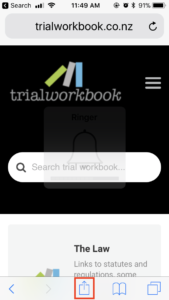 Next, tap on the share symbol (highlighted in red) and you will see the following screen.
Tap on the Add to Home Screen Button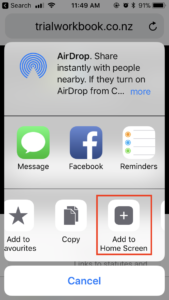 In the next step you need to rename the Shortcut to something that will fit nicely on the home screen. Delete the initial suggestion by clicking on the X as highlighted. Then type TW in its place. Tap on Add and check out your new icon.